The FAPAR is defined as the fraction of photosynthetically active radiation (400-700 nm) absorbed by the green vegetation (Fraction of Absorbed Photosynthetically Active Radiation).
This variable expresses the energy absorption capacity of the vegetation and thu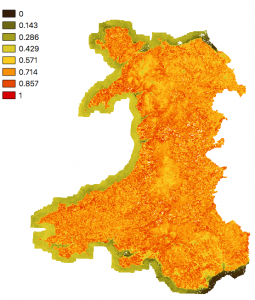 s its growing capacity.
It is an unitless measure comprised between 0 and 1. Canopy with a FAPAR of 1 totally absorbs the photosynthetically active radiation whereas a FAPAR of 0 indicates no absorption. FAPAR can be estimated by ground measurements (see here) or through satellite/airborne sensors.
Unit: percent or fraction
Available products over Wales:
UCL GlobAlbedo-derived (Please contact Mathias Disney: mathias.disney@ucl.ac.uk)